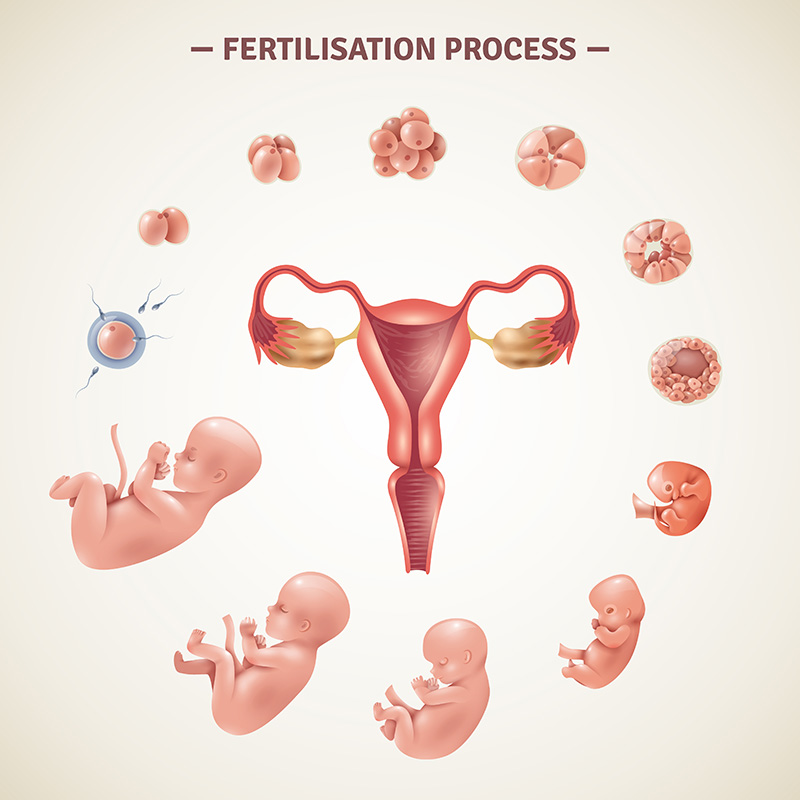 It may come as a surprise for many to learn that it can take a healthy young couple up to 12
months to fall pregnant. Should a couple have been trying to conceive for a year without success, however, it
may be an indication that they have a fertility problem.
So says Dr Jackson Ndhlovu, a gynaecologist, obstetrician and fertility specialist who practises at Netcare
Pholoso Hospital in Polokwane. Dr Ndlovu — who is the only resident fertility specialist in the private sector
in Limpopo province — says that infertility is a relatively common problem, with between 10 to 15% of
couples experiencing problems conceiving.
Infertility can affect both sexes
"There is a misconception among many people in South Africa that infertility is exclusively a woman's
problem but this is not true. Fertility problems are as commonly associated with men and it is for this reason
that we strongly recommend that couples experiencing difficulties in this regard visit their healthcare
practitioner together," emphasises Dr Ndhlovu.
"There are many reasons why a couple may have fertility problems, and treatment will depend on the cause
of the infertility. Couple's should not despair, however, as there are many safe and effective therapies
available today that can significantly improve their chances of becoming pregnant."
Dr Ndhlovu, who has a special interest in the prevention, diagnosis and management of reproductive
problems, underwent training in the fertility sub-speciality after completing his specialist qualification in
obstetrics and gynaecology. He says that, as the only resident specialist in private practice in the province,
one of his foremost goals "is to improve and maintain the reproductive health of couples in our community,
so as to enable them to fulfil their dream of having children".
When to see your doctor
Ndhlovu advises any couple under the age of 35 who have not conceived after a year or more of trying, to
consulting a medical practitioner. The same applies when the female partner is more than 35 years old and
the couple have been trying for more than six months to conceive. He recommends that women over the age
of 40 who want to have a baby should standardly consult a medical professional.
"An assessment should preferably involve both partners in a couple's consultation. A complete medical
history and examination will be required and treatment will depend on the cause of the infertility, with the
approach varying from conservative, such as the use of medicines, to a the use of assisted reproductive
technologies and, in some cases, surgery," explains Dr Ndhlovu.
"Fortunately, on-going advances in diagnostic technology and in the discipline of fertility, make it possible to
diagnose the cause or causes of a couple's inability to conceive much more accurately, and treatment can be
targeted specifically to help address these causes and assist couples on their journey to parenthood," he
adds.
Male infertility
"A number of factors can cause infertility problems in men, but a low sperm count, which may result from
too much or too little of certain of the hormones needed to produce sperm, is a leading cause. Men who are
obese, whose jobs involve long hours of sitting, or who smoke or drink heavily may be at risk of having a
lower sperm count but adopting a healthier lifestyle and diet may assist.
"In the event of infections of the reproductive organs, some men may require antibiotic treatment, while
others may need hormone therapies in the event of low or high levels of certain hormones. Some men may
also require surgery to correct infertility. We will undertake a semen analysis and physical examination to
ascertain what may be contributing to the infertility, and then treat it as necessary," says Dr Ndhlovu.
Infertility in women
Dr Ndlovu notes that infertility in women can also be caused by a number of possible factors including the
blockage of the fallopian tubes resulting from previous pelvic infections, or hormone abnormalities or
imbalances which could result from a condition such as polycystic ovary syndrome. In addition, the fertility of
women tends to reduce after the age of 35.
"Infertility in women can be treated with fertility drugs and hormones to assist in restoring hormone levels in
order to stimulate ovulation. On occasion, surgery may be used to remove tissue that may be impacting
fertility, as may occur with endometriosis for example, or to open blocked fallopian tubes."
In vitro fertilisation
"In some cases we may overcome the problem of infertility in either men or women by using assisted
reproductive technology [ART], such as in vitro fertilisation [IVF], a service that we offer here at the Netcare
Pholoso Hospital fertility clinic. The latter involves us collecting the sperm and egg and bringing them
together in a laboratory. The fertilised egg is then placed in the woman's uterus," advises Dr Ndhlovu.
Netcare Pholoso Hospital general manager, Fabion Bennett, says that the facility is the only one in the private
sector in the province to offer an ART service.
According to Bennet, in addition to providing fertility services, Dr Ndlovu also provides general obstetric and
gynaecological services to patients and has a broad range of interests ranging from sex education, family
planning, the treatment of sexually transmitted diseases, sexual dysfunction, menstruation and ovulation
problems, early pregnancy losses, menopause, reproductive endocrinology, male infertility, paediatric
endocrinology, disorders of sexual differentiation, and endoscopy.
"We are most fortunate to have a specialist of Dr Ndhlovu's calibre practising at our hospital. With the
introduction of this comprehensive fertility and reproductive service we look forward to bringing hope to
many couples in Limpopo who are struggling to conceive," he concludes.